Showroom
EXCLUSIVE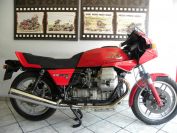 Moto Guzzi Lemans III red (1984) for sale in Athens/Greece
SOLD!
General
In 1981 it was time for a renewal of the Le Mans series, which started very successfully in 1975 creating one the best sport bikes of the decade and continued with the Le Mans II in 1978 with small changes especially in equipment and fairing, designed now in the well known wind tunnel.
This time, changes were drastic, in more than 80 points, such as combustion chamber, cylinders, induction and exhaust, swing arm and of course looks. The result was the Le Mans III, a bike which stood amongst the hardcore Le Mans and the slightly "overloaded" Le Mans II. It had increased horsepower and higher top speed, and also had by design greater ability for engine capacity increase.
Read more...
SOLD!
EXCLUSIVE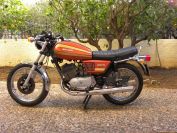 For sale Moto Guzzi 250 TS (1979)
General
The 250 TS lunched in the spring of 1973 and started sales next year being one of the first bikes produced during the De Tomaso period. It was derived from a similar Benelli model, produced in order to give Guzzi an immediate placement in the middleweight segment. Unlike the Benelli version it had light alloy barrel castings with chrome bores instead of cast iron. This resulted to an increase in output and a loss of weight. It also had
Read more...