Benelli Tornado 650 S project bike for sale
EXCLUSIVE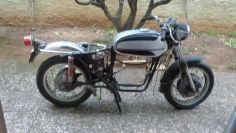 Benelli Tornado 650 S project bike
SOLD!
When it got in the service station, 10 years ago, it was in perfect condition, only in need of a service and tappet stems change. It was dismantled and waited parts that never came. During the next years, the seat was disappeared, together with some engine covers and..
other minor parts that maybe will show up suddenly one day behind some stacked boxes laying on the garage's wall. As we do not have the time to invest on this interesting project, we could sell it as is or change it with a big block Moto Guzzi (Τ3, Τ4, 1000 SP, Convert, California etc) or a Loop Frame (V7 700, Special, Eldorado, 850 GT, Ambassador etc). Any possible sale price differences will be probably covered in cash from one or the other side.
Price € -


Με ενδιαφέρει η αγγελία
Επικοινωνήστε για να μου δώσετε περισσότερες πληροφορίες.
** Συνήθως απαντάμε εντός της ίδιας ή της επόμενης εργάσιμης ημέρας. Αν η απάντηση αργήσει, παρακαλούμε ελέγξτε και στην ανεπιθύμητη αλληλογραφία!