Moto Guzzi 750/850/1000/1100 newtral indicator switch NOS 12207200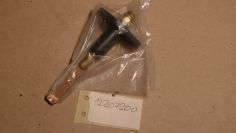 Moto Guzzi newtral indicator switch for sale
N.O.S. newtral indicator switch (CORPO PORTA CONTATTO COMPLETO). For all Tonti and Loop Frame models such as V7, Ambassador, Eldorado, 850GT, V7 Sport, Le Mans, T3, T4, T5, California, 1000 SP, GT, S, G5 etc. In perfect new condition. Genuine, not reproduction. Moto Guzzi part number 12 20 72 00. In perfect new condition.
Price € 25
I am interested in the ad
Please contact me for giving me more information.
** Normally we reply the same day or the next working day. In case your answer delays, pls check also your spam folder!