Mercedes 180 Ponton (1961)
EXCLUSIVE
SOLD!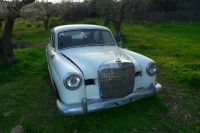 Mercedes 180 Ponton resto project
This specific is a '62 model, and was bought by the present owner's father in 1971. It was used daily until 1994, when number plates were returned (to tax office).
It has not been moved since.
Has minimal rust and the engine turns freely.
Price €2.400
tel. +306944347060