Showroom
EXCLUSIVE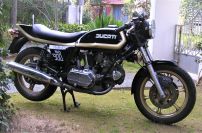 Ducati Darmah SD 900 for sale
The DARMAH in general
In 2019, the leading American Gear Patrol named the Ducati 900 Darmah as one of the most emblematic motorcycles of all time. The Darmah was designed by Leopoldo Tartarini and first introduced in 1977 in two types: the SS (Super Sport) and the SD (Sport Desmo). The SD, which was the tourism version, came in two colors, black with gold or red with white, and remained in production until 1983. Its name came from a fictional tiger, which has to do with the combined qualities of agility and power. Its twin-cylinder Desmo (desmodromic) air-cooled engine was 864 cc in a 90-degree L-shaped system and produced 70 hp, while the transmission had five speeds. Two Dell'Orto PHF 32Cs took care of the power supply. The suspensions were Marzocchi with ...
Read more...
EXCLUSIVE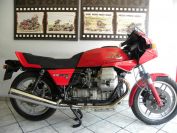 Moto Guzzi Lemans III red (1984) for sale in Athens/Greece
SOLD!
The 850 Le Mans III in General
In 1981 it was time for a renewal of the Le Mans series, which started very successfully in 1975 creating one the best sport bikes of the decade and continued with the Le Mans II in 1978 with small changes especially in equipment and fairing, designed now in the well known wind tunnel.
This time, changes were drastic, in more than 80 points, such as combustion chamber, cylinders, induction and exhaust, swing arm and of course looks. The result was the Le Mans III, a bike which stood amongst the hardcore Le Mans and the slightly "overloaded" Le Mans II. It had increased horsepower and higher top speed, and also had by design greater ability for engine capacity increase.
Read more...