Moto Guzzi Spare Parts
Moto Guzzi cable for sale
Original Moto Guzzi new NOS cable (trasmissione)). Missing part number, very rare cable end! Rare. See photos.
Read more...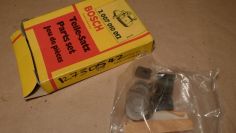 Moto Guzzi Bosch starter service kit for sale
N.O.S. starter repair kit (SERIE ACCESSORI PER INDOTTO). For all Moto Guzzi classic models 750, 850, 1000, 1100, 1200 such as V35-50-65-75 and V7 700, 750, 850, T3, T4, Le Mans, G5 etc that wear Bosch starter. Moto Guzzi part number 12 73 05 42. Quite rare to find.
Read more...