Ford Model A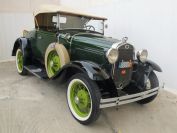 A georgeous sample of the so-called "Henry's Lady", having had an earlier restoration and patina. For many decades it belonged to an American doctor. It was imported and Customs cleared in Greece in June 2013. Has FIVA card A/3.
The 1931 Roadster Deluxe model is one of the most desirable collectors cars, with convertible roof, side curtins, and the famous "mother-in-law" seat!
Has full service, new exhaust, battery, spare parts, manuals, etc. 
Has been detailed by swell.gr, and is ready for regularity rallies, Concours d' Elegance etc events.
Price € 39.000
I am interested in the ad
Please contact me for giving me more information.
** Normally we reply the same day or the next working day. In case your answer delays, pls check also your spam folder!