For sale 1985 Lancia Y10 Turbo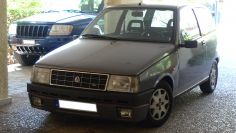 For sale Lancia/Autobianchi Y10 Turbo
EXCLUSIVE


The Y10 In general
You can read all about Y10 and specifically for the 1050 Turbo model here: https://en.wikipedia.org/wiki/Autobianchi_Y10
A few words about the car on sale

Rare, perfectly preserved rust-free fully functional Lancia / Autobianchi Y10 Turbo for sale. Color is the original factory painted. With no serious accident. The interior has been changed to genuine black leather...
Drives perfectly, the engine is powerful and does not consume any oil because it was driven carefully as the turbo engine of the era implies, like not revving when cold etc. The gearbox is quiet with no noises when changing gears. The suspension, brakes and tyres are in good condition, so are the electrics. Generally the car is ready to be driven to any destination. Test drive and inspection accepted.
Price €8.300
I am interested in the ad
Please contact me for giving me more information.
** Normally we reply the same day or the next working day. In case your answer delays, pls check also your spam folder!