Gilera RV 125 200 NOS handlebar with brake base, throttle and switches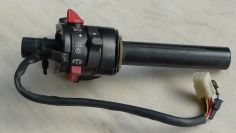 Gilera RV 125/200 right handlebar for sale
>Original new NOS Gilera RV 125 200 right handlebar (clip on) with brake base, throttle and switch gear RH (SEMIMANUVRIO DESTRO COMPLETO). Check photos.
Price € 95
I am interested in the ad
Please contact me for giving me more information.
** Normally we reply the same day or the next working day. In case your answer delays, pls check also your spam folder!