Moto Guzzi 254, 250TS, Benelli 125/250, rear fork pin 39547000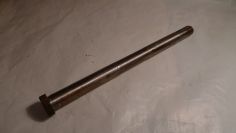 Moto Guzzi 254, 250TS, Benelli 250/125 fork pin for sale
Original new rear fork pin for Moto Guzzi 254, 250TS & 125/250 Benelli models. PERNO FORCELLONE. Part Number 39547000.
Price € 19
I am interested in the ad
Please contact me for giving me more information.
** Normally we reply the same day or the next working day. In case your answer delays, pls check also your spam folder!