Moto Guzzi V35/50/250/125 Benelli Headlight Rubbers 39492701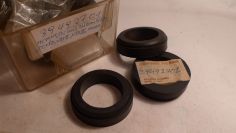 Moto Guzzi Headlight Bracket Mounting Rubbers for sale
Original new NOS Headlight Bracket Mounting Rubbers for Moto Guzzi 250TS, 125 2C 4T, 254, 125 CUSTOM, V35, V50, V35 2, IMOLA, V50 3 and Benelli 125/250 2C models. Faro supporto montaggio GOMMINI. Part Number 39492701.
Price € 3.5
I am interested in the ad
Please contact me for giving me more information.
** Normally we reply the same day or the next working day. In case your answer delays, pls check also your spam folder!