Moto Guzzi V7, V7 Special, V7 Cal, Ambo, Eldo, 850GT generator part NOS 12700114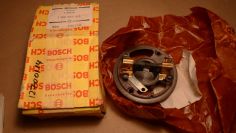 Moto Guzzi V7 all models generator cover for sale
N.O.S. generator end cover complete (SUPPORTO LATO COLLETTORE COMPLETO). For all Loop Frame models such as V7 700, V7 Special, Ambassador, Eldorado, 850GT, V7 California, 1000 SP, GT, S, G5 etc. that wear Bosch generator. In perfect new condition. Rare, almost impossible to find elseware. Moto Guzzi part number 12 70 01 14.
Price € 128
I am interested in the ad
Please contact me for giving me more information.
** Normally we reply the same day or the next working day. In case your answer delays, pls check also your spam folder!