Piaggio Vespa LT 50/150 new original flasher 6v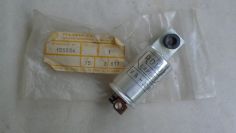 Vespa LT 50/150 new flasher w/fuse 6v-20w
Genuine new NOS Piaggio flasher with fuse 6v-20w (intermittenza) for models LT 50/150. Part no 155524. Rare original. See photo.
Price € 9
I am interested in the ad
Please contact me for giving me more information.
** Normally we reply the same day or the next working day. In case your answer delays, pls check also your spam folder!