Piaggio Vespa PK 50 XL ELESTART new NOS badge emblem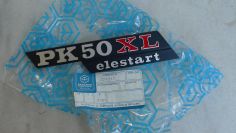 Piaggio Vespa PK 50 XL ELESTART new NOS badge
Piaggio Vespa "PK 50 XL ELESTART" original NOS emblem / badge (TARGHETTA EMBLEMA PK 50 XL ELESTART VESPA ORIGINALE PIAGGIO). Part No. 229317. See photo.
Price € 8
I am interested in the ad
Please contact me for giving me more information.
** Normally we reply the same day or the next working day. In case your answer delays, pls check also your spam folder!