Piaggio ZIP NRG MC2 NTT QUARTZ SFERA new gear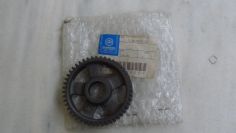 New gear for Piaggio ZIP NRG MC2 NTT QUARTZ SFERA
Original new gear for Piaggio ZIP NRG MC2 NTT QUARTZ SFERA (Z=48) (INGRANAGGIO RAPPORTI Z48). Part no 287048. See photo.
Price € 29
I am interested in the ad
Please contact me for giving me more information.
** Normally we reply the same day or the next working day. In case your answer delays, pls check also your spam folder!