For sale Ducati Darmah SD 900 (1979)
EXCLUSIVE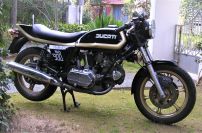 Ducati Darmah SD 900 for sale
The DARMAH in general
In 2019, the leading American Gear Patrol named the Ducati 900 Darmah as one of the most emblematic motorcycles of all time. The Darmah was designed by Leopoldo Tartarini and first introduced in 1977 in two types: the SS (Super Sport) and the SD (Sport Desmo). The SD, which was the tourism version, came in two colors, black with gold or red with white, and remained in production until 1983. Its name came from a fictional tiger, which has to do with the combined qualities of agility and power. Its twin-cylinder Desmo (desmodromic) air-cooled engine was 864 cc in a 90-degree L-shaped system and produced 70 hp, while the transmission had five speeds. Two Dell'Orto PHF 32Cs took care of the power supply. The suspensions were Marzocchi with ...
.... a telescopic fork at the front and two adjustable shock absorbers at the rear. The deceleration was undertaken by three disc brakes - two in the front with a diameter of 280 mm with single-piston calipers, and one in the rear also with a diameter of 280 mm. Its weight was 224 kg, while it could develop a top speed of 190 km/h. The 900 Darmah SD, along with the Moto Guzzi Le Mans, were considered the '80s motorcycles with the best grip and handling, and for this reason they were able to outperform more powerful Japanese motorcycles on twisty roads.
A few words about the motorcycle on sale
The specific 900 SD of 1979, was sold by its first owner to the current collector in 1982, who has since taken care of and paid particular attention to detail, while always keeping it in a closed parking lot. This Darmah is in excellent condition, with 55,000 actual kilometers and a maintenance history. The handlebar has been replaced with clip-ons and the pedals have been moved slightly to the rear for more comfortable driving and aerodynamic improvement. Two years ago, due to long immobility, the engine was checked and restored where necessary; at the same time, the 32 Dellorto carburetors were replaced with new 40 mm Dellorto, for smoother torque and improved performance. The left exhaust, although it has a dent (seen in photo 8), has been preserved as it is the original Lafranconi of the motorcycle. It bears the license plates of an oldtimer and is available for inspection.
Price € 12.900
I am interested in the ad
Please contact me for giving me more information.
** Normally we reply the same day or the next working day. In case your answer delays, pls check also your spam folder!