For sale Moto Guzzi Lemans ΙΙI silver (1983)
SOLD!
EXCLUSIVE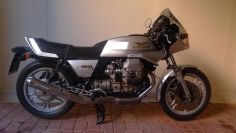 Moto Guzzi Lemans ΙΙI for sale
The 850 Le Mans III in General
In 1981 it was time for a renewal of the Le Mans series, which started very successfully in 1975 creating one the best sport bikes of the decade and continued with the Le Mans II in 1978 with small changes especially in equipment and fairing, designed now in the well known wind tunnel.
This time, changes were drastic, in more than 80 points, such as combustion chamber, cylinders, induction and exhaust, swing arm and of course looks. The result was the Le Mans III, a bike which stood amongst the hardcore Le Mans and the slightly "overloaded" Le Mans II. It had increased horsepower and higher top speed, and also had by design greater ability for engine capacity increase.
The long wheelbase made it even more stable in high speed cornering. It was immediately loved and was sold much more than its predecessors, making it today a constant and recognized value of the Italian sport school in its golden decade.
A few words about the motorcycle on sale

It was bought in the end of 2012 from its young previous owner, who had purchased it shortly before, in a "transformed" condition. This Le Mans was customized! With changed "king-and-queen" saddle, large handle bar, lights, instruments, and most importantly air and "oil cooled", with oil being everywhere (so called external circulation, or oil bath!)... This young lad used whatever was available to him that would highlight its sport classic character, and with low cost tried his best to bring it around; in fact he even participated in a 2,000 km endurance event with it.
The original spare parts missing were being gathered for about 6 months. Front and rear mudguards, saddle, fuel tank, all fairing parts, lighting, wire harness, clip-ons, switches, covers to name just a few of them. Immediately afterwards the engine was fully disassembled, thoroughly inspected and sealed with all disposable parts changed. Liners, pistons and carburetors were recently bought and were in perfect condition, as well as cylinder heads - crankshaft - camshaft. Gearbox and final drive were also inspected and found not to be worn. In general, in spite of the "oil bath" and the various DIY solutions applied on them, the engine and mechanical parts exceeded our expectations
During reassembly the issue of color choice arose. The option of the original "silver-gray metallic" was finally chosen, which when painted highlighted the Le Mans III gorgeous lines and its minimal graphics (mainly at the front fairing). It is probably the only silver Le Mans in our country, since the very few that were imported in this color, were resprayed to red on first opportunity.
At last, even after delays, the time for the first ride came. Delight is the only word that we can use. Full of sound, feel, power, linearity, and making us smile. Being narcissists, we cannot have enough of looking the reflection of our figures on the stores showcases.
It is ready to travel anywhere, freely giving the feel of an Italian sport classic, and also to perform in classic rallies. Priced Euro 7,000 for a III, is very hard to be matched in condition, originality and power.
Price €
| | |
| --- | --- |
| | Moto Guzzi 850 Le Mans III |
| Year of manufacture | 1983 |
| Body maker | Moto Guzzi |
| Manufactured | 9.589 |
| Engine | V 90 air cooled |
| Capacity | 944 |
| Cylinders | 2 |
| Max power | 82 DIN / 7500 |
| Fuel system | 2 carburators (Dellorto 40) |
| Brakes | 2x 300mm disks front-1x240 disk rear / integral braking |
| Drive | Bevel drive |
| Gearbox | 5 gears |
| Color | Grizio met. |
| Fuel capacity (litres) | 18 |
| Weight | 205 |
| Spec. comments | Lafranconi exhausts, 1000 cc, 40mm carbs |
| FIVA card/ Category | No |
I am interested in the ad
Please contact me for giving me more information.
** Normally we reply the same day or the next working day. In case your answer delays, pls check also your spam folder!