For sale Moto Guzzi V65 Police (1982)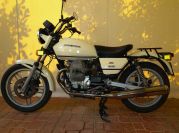 For Sale Motoguzzi V65 Police
SOLD!
EXCLUSIVE
The V65 in General

In 1982 Moto Guzzi wanted to bridge the gap between its big blocks (T3, Le Mans, California, 1000SP etc) and V35-V50 which were considered entry level for the marque. The V65 was launched as a balanced proposition combining decent power, low weight and the firm's classic handling and braking abilities. Press and customers gave it a mild reception, mostly because it did not differed enough optically from its smaller siblings, despite achieving all of the manufacturer's targets.
The V65 can actually do everything very good without standing out at any area but also without lagging at any other. It is the ideal classic motorbike for convenient every day use, with the sensation of a big Guzzi for easy rides, twisty roads and suitable for classic rally successes. It is not a coincidence that it was chosen as a police or military bike from several states, such as Holland, Italy and Greece.
A few words about the motorcycle on sale

In the spring of 1992 the Greek State auctioned in Larissa and other locations more than 80 ex-police V65s. It was well known that they were almost new, with milages ranging from 400 to 7,000 km! The truth is that officers disregarded these mid-weight Guzzis and deliberately created or exaggerated damages, aiming at getting them out of service as soon as possible. And quite understandable, since how could you pursuit with a V65 a suspect riding GSXR, GPZ or CBR, which were already popular and abundant at the time (circa 1987)? The present owner went to the auction by chance and did not resist the temptation of obtaining one. Many reasons forced him to forget it in a warehouse until Sep 2012, when its renovation started, to be completed after 3 months. The bike is almost new in terms of engine and brand new in many peripherals: Carburetors (the original ones had been "removed"), voltage regulator, contact breaker carrier, starter motor, side panels, indicators, taillight, brake calipers, front brake master cylinder, saddle etc. It rides beautifully, and has the braking (uses integrale) and road handling that it is supposed to. Its single seat, metal fenders (unlike civialian model's plastic ones) and Polizia original color give it a distinct style. It can immediately receive classic number plates (class A3) with cost of EURO 145.
Price €


| | |
| --- | --- |
| | Moto Guzzi V65 Police |
| Year of manufacture | 1982 |
| Body maker | Moto Guzzi |
| Manufactured | ~5000 |
| Engine | V 90 air cooled |
| Capacity | 650 |
| Cylinders | 2 |
| Max power | 52 HP /7030 |
| Fuel system | 2 carburators (Dellorto 30) |
| Brakes | 2x 260mm disks front-1x235 disk rear / integral braking |
| Drive | Bevel drive |
| Gearbox | 5 gears |
| Color | Ivory |
| Fuel capacity (litres) | 16 |
| Weight | 165 |
| Spec. comments | |
| FIVA card/ Category | A3 |