For sale FIAT 128 3P (1976)
EXCLUSIVE
SOLD!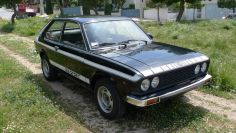 FIAT 128 3P for sale
The Fiat 128 in general
The Fiat 128 is a small-midsize segment C family car. It was produced from 1969 to 2008 in various factories around the world.
It was designed by Dante Giacosa, designer also of the legendary Fiat 500 of 1957, and in fact the 128 was one of his last great creations. The car's engine was designed by the famous Ferrari's racing engine designer Aurelio Lamperdi.
It won European Car of the Year contest in 1970, as it enthusiastically received by the press for the new features it introduced in the fields of practicality, design and engines.
The coupe version was launched in 1971, one year after its rival VW Scirocco, while the 3P (3 porte), with inproved design and practicality, from 1975 to 1978. The 128 formed a great commercial success for Fiat.
The 128 3P was popular also in Greece. Thanks to its good roadholding, lively engine and of course youthful lines, it was bought by youngsters and had a hard time in their hands. Combined with rust problems that plagued at that time many batches of Italian cars, very few examples survived without major alterations or accidents.
A few words about the car on sale

This example was bought in 2013 from south Greece in very good body condition, without crash damage or rust in crucial parts, with a perfect interior, complete with all its original parts except for the engine, which was replaced by a similar later one 1600 cc and 90 bhp, and which combined with the car's low weight (<850 kg) gives this little Fiat "wings".
Some minor repairs - maintainance have been performed (brakes - starter motor - electrics), also some light bodywork - painting where was deemed necessary to reach a stable and reliable condition.
It has a 5 speed gearbox and thus relatively small fuel consumption, and can easily travel far, giving many classic rally rivals a run for their money in regularity and why not in sporting category. Additionally, thanks to low tax and insurance costs it can very finely make a pleasant and stylish every-day-car with spirit and nerve when needed.

2 videos follow, one showing the in motion and the oher showing mainly the car's external.
{vimeo id:69531509}
{vimeo id:69531510}
Price - euro



FIAT 128 3P

Year of manufacture

1975

Body maker

FIAT

Manufactured




Engine maker

Fiat

Capacity

1600

Cylinders

4

Max power

90 bhp

Fuel system

1 double carburator (WEBER)

Engine position

front

Drive

front

Gearbox

manual 5 gears

Color

Black

Dimensions LxWxH

381X156X131

Weight

820

Spec . comments

Independent susp in all wheels,
overhead camshaft


FIVA card/ Category

No
{eforms}moreinfo-en{/eforms}