For sale Ghia 1500 GT (1963)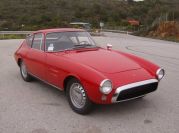 For Sale Ghia 1500 GT
SOLD!
EXCLUSIVE
The Ghia 1500 GT in general
Almost handmade, it is built in Ghia's factory and based on Fiat 1500, it is one of 800 produced and among 50-100 that have still survived worldwide. Particular effort had been made to concentrate mass around center of gravity and to reduce drag coefficient, and had a top speed of 175 km/h.
A few words for the particular example
The car has been in Greece since 1968 and has both state and historic number plates. In 2007 it was discovered parked and covered in Athens city centre. The owner was traced with a lot of effort and communication started. The deal was finally made, after some time, mainly due to owing a decade's worth of road tax. It took a year and a half to perform general bodywork, painting, electrical, complete upholstery, engine, brakes and all remaining mechanical parts repairs and restoration. Many parts were changed, included, including radiator, shock absorbers, all pumps, heater, lights, seats (Toyota ones had been previously fitted !), steering wheel, windows seals etc. When finally on the road, it participated in a classic rally, completely trouble-free. Since then, it has been receiving its regular servicing, going out for short drives and participating in classic rallies 1-2 times a year. It starts easily and drives without any problems. Engine temperature always stays low, it brakes, corners and generally functions as it should. It never goes in Athens city center, fearing of body damages, since bodywork parts are rare! It is generally in perfect condition and there is no works pending, for this reason it is sold as a finished project, one that needed a lot of love and craftsmanship to complete.
Price €
| | |
| --- | --- |
| | Ghia 1500 GT |
| Year of manufacture | 1963 |
| Body maker | Ghia |
| Manufactured | 600 |
| Engine maker | Fiat |
| Capacity | 1500 |
| Cylinders | 4 |
| Max power | 67 bhp/5200 rpm |
| Fuel system | 1 double carburator (WEBER) |
| Engine position | front/center |
| Drive | rear |
| Gearbox | manual 4 gears |
| Color | Rosso corsa |
| Dimensions LxWxH | 412x163x127 |
| Weight | 995 |
| Spec . comments | self supported with tubular frame in front |
| FIVA card/ Category | Yes/B3 |