For sale Moto Guzzi V50 II Polizia (1979)
EXCLUSIVE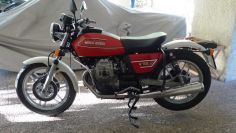 For sale Moto Guzzi V50 II Polizia (1979)
SOLD!
The V50 in General
When De Tomaso took over Moto Guzzi in 1973, he brought over his own views on how the firm should act in order to avoid the financial dead end. Noticing that the previous management was stuck in producing only big twins with increased manufacturing cost, he instructs Lino Tonti (the firm's very capable chief engineer) to develop and produce smaller capacity twinsin order to cover that gap in the market, emphasizing in reducing costs through new production methods and automations, available at the Innocenti factory, also owned by the group.
This way, the V50 emerged in 1975, the V50 II in 1977, both models with small production capacity, and in 1979 the V50 III with full capacity. Despite the split crankcase, gearbox mounted swingarm, heron type combustion chamber etc, costs were not low enough to match the competition from Far East, therefore although its handling, brakes, low weight, reliability were positively received, it didn't achieve the sales volume intended. In 1981 the Monza version was launched, with body similar to the bigger Le Mans of the era.
Today it is one of the easiest to use, timeless and economical choices for entering the classic Moto Guzzi world.
A few words about the motorcycle on sale

The bike was lying still for at least a decade. All peripherals were in decay or nicked, broken, or rotted. Fortunately the same was not true for the engine. Guzzi twins after all have proved very resistant in standstill. It is very rare to find a seized one. The compression test, even before restoration, showed quite satisfactory figures, similar for both cylinders. Engine dismantling, cleaning, gaskets , oil & filter change had already taken place. The renovation progress required the gathering of all peripherals needed. The fuel tank was beyond rescue, and was replaced with a new old stock one, waiting in its package, factory painted in 1977!! A "polizia" saddle used is of the same condition. New carburetors and many more parts were purchased. In a little customizing touch, a metallic front fender from a Florida 650 was used, as well as the original polizia rear protection bars, which accompany the single saddle very well and make the bike and rider immune to side falls, by creating a safety "triangle". The final outcome fully justified the work and expenses. On the road it is unexpectedly smooth in all its operations: engine, brakes, handles/switches, suspension, riding position. It can be certified as historic vehicle if the new owner so wishes, or can remain normally registered. In any case, it will reward its rider with its gorgeous classic feel.
Price €
| | |
| --- | --- |
| | Moto Guzzi V50 ΙΙ |
| Year of manufacture | 1979 |
| Factory | Moto Guzzi |
| Production run | 7343 |
| Engine | V 90 air cooled |
| Capacity | 500 |
| Cylinders | 2 |
| Horsepower | 48 DIN / 7600 |
| Fuel system | 2 carburators (Dellorto 28) |
| Brake system | 2x 260mm disks front-1x235 disk rear / integral braking |
| Transmission | Bevel drive (διαφορικο) |
| Gearbox | 5 gears |
| Colour | red |
| Fuel tank | 16,5 |
| Weight | 152 |
| | |
| FIVA / class | No |
I am interested in the ad
Please contact me for giving me more information.
** Normally we reply the same day or the next working day. In case your answer delays, pls check also your spam folder!