For sale Moto Guzzi Daytona RS (1998)
SOLD!
EXCLUSIVE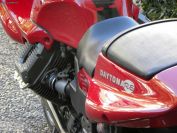 For sale Moto Guzzi Daytona RS
The Daytona RS in General
The Daytona RS is the most uncompromised Moto Guzzi after the famous Le Mans series, and with more modern technology of course, probably the best of its era. Apart from the 4valve cylinder heads, it also had Marelli electronic fuel injection & ignition, WP fork and rear single shock, and Brembo brakes. It was a ready to race sports bike, and had unique handling. Commercially, it was overshadowed by the much simpler 1100 Sport's sales. Total production run was 308 copies, and together with its unique technology and performance it is definately a sought after modern classic.
A few words about the motorcycle on sale

It is the only sample in Greece, out of total 308.
It is official import, built in 1998, registered in 2003 and without change of ownership since then - ownership by knowledgable Guzzi collector.
It is in showcase condition, both aestheticaly as well as mechanicaly, relentesly maintained, with less than 20,000 km.
It has recent cam belts precautionary replacement and big service performed at half that the suggested km.
Color is the original Rosso corsa, without any wear.
No change has been done in either exhausts or EFI mapping, or in any other detail.
It has never been in a race track, and all mileage has been in dry weather maintainance outings in countryside. It is fully ready for any use.

It is registered (Greek numberplates).
Owner will consider part exchange with other classic Guzzi.
Price €



Moto Guzzi Daytona RS

Έτος Κατασκευής

1998

Εργοστάσιο αμάξωμα

Moto Guzzi

Παρήχθησαν

308

Kινητήρας

V 90 air cooled

Κυβισμός

949

Κύλινδροι

2

Ιπποδύναμη

102/8400

Τροφοδοσία

Weber-Marelli EFI

Φρένα

2x 320mm disks front-1x282 disk rear

Μετάδοση

Bevel drive (διαφορικο)

Κιβ. Ταχ/των

5 gears

Χρώμα

Κόκκινο μεταλλ/Rosso corsa

Ρεζερβουάρ

19

Βάρος

223

Ιδιαίτερα χαρακτ/κά

OVHC, 4V, WP

upside down,rear WP single

Κάρτα FIVA / κατηγορία



I am interested in the ad
Please contact me for giving me more information.
** Normally we reply the same day or the next working day. In case your answer delays, pls check also your spam folder!