SOLD!
EXCLUSIVE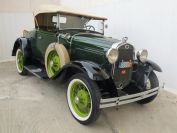 In general
A georgeous sample of the so-called "Henry's Lady", having had an earlier restoration and patina. For many decades it belonged to an American doctor. It was imported and Customs cleared in Greece in June 2013. Has FIVA card A/3.
The 1931 Roadster Deluxe model is one of the most desirable collectors cars, with convertible roof, side curtins, and the famous "mother-in-law" seat!
Has full service, new exhaust, battery, spare parts, manuals, etc.
Has been detailed by swell.gr, and is ready for regularity rallies, Concours d' Elegance etc events.
Read more...
SOLD!
EXCLUSIVE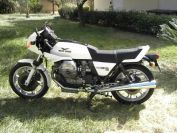 For sale Moto Guzzi Lemans III white (1982)
General
In 1981 it was time for a renewal of the Le Mans series, which started very successfully in 1975 creating one the best sport bikes of the decade and continued with the Le Mans II in 1978 with small changes especially in equipment and fairing, designed now in the well known wind tunnel.
Read more...
EXCLUSIVE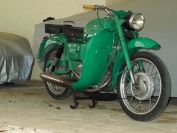 Moto Guzzi Lodola 235 Granturismo
Video:
General
The Lodola was launched in 1956 and was in production until 1966. It is the last bike designed exclusively by Carlo Guzzi, with considerably different design than the models up to that time with horizontal cylinder. It initially had 175 cc, and 235 from 1959 onwards. Its slogan was " designed by the wind" because its design coincided with the construction of the factory's private wind tunnel, which was a world first.
One of its many charecteristics is the 2 mounting positions for the rear shocks on the frame, giving the ability for 2 settings in spring rate and shock absorber hardness, for better adjustment in the bike's current load.
Read more...
SOLD!
EXCLUSIVE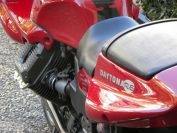 For sale Moto Guzzi Daytona RS
General
The Daytona RS is the most uncompromised Moto Guzzi after the famous Le Mans series, and with more modern technology of course, probably the best of its era. Apart from the 4valve cylinder heads, it also had Marelli electronic fuel injection & ignition, WP fork and rear single shock, and Brembo brakes. It was a ready to race sports bike, and had unique handling. Commercially, it was overshadowed by the much simpler 1100 Sport's sales. Total production run was 308 copies, and together with its unique technology and performance it is definately a sought after modern classic.
Read more...
EXCLUSIVE
SOLD!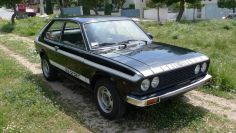 FIAT 128 3P for sale
In general
The Fiat 128 is a small-midsize segment C family car. It was produced from 1969 to 2008 in various factories around the world.
It was designed by Dante Giacosa, designer also of the legendary Fiat 500 of 1957, and in fact the 128 was one of his last great creations. The car's engine was designed by the famous Ferrari's racing engine designer Aurelio Lamperdi.
It won European Car of the Year contest in 1970, as it enthusiastically received by the press for the new features it introduced in the fields of practicality, design and engines.
Read more...